Your garage might just be the largest room in your home. Why not make it look as good as the rest of your house?

Garage floor coatings are designed to enhance the look and value of your garage, while providing a tough, long - lasting and easy to clean surface. 

Now here's the real story about garage floor coatings. First of all, they are not just paint.  Paints are inexpensive, they scratch easily and will wear off the floor after a very short time, requiring constant maintenance and re-coating.

And like everything else on the planet, coatings come in all kinds of quality levels, starting at the "Do-It-Yourself" grade found at the big box stores to commercial grade products installed by professional coating contractors. 

At the top of the scale are polyurea coatings.  Exceptionally hard and durable, these products are fast drying, low odor, low VOC and are UV stabilized so they won't ever yellow.  

Monkey Bars of Phoenix uses only commercial grade, high-quality, 2 part polyurea materials for unsurpassed beauty and durability.  Great for decks and walkways, too!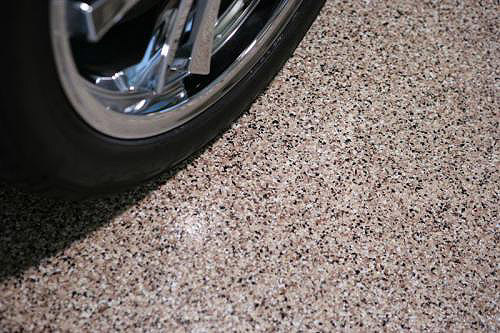 After garage coating application.  Roll your mouse over picture to see the before picture.

A great garage floor installation doesn't happen by accident.  It takes careful surface preparation.  Some companies just sweep your floor before application.  Others power wash.  There are those that use a surface de-greaser.  And a few will acid etch the concrete.  Its better than no preparation at all, but not effective.  

Monkey Bars of Phoenix diamond grinds every floor to eliminate surface contaminants and expose the pores of the concrete below.  This assures a positive bond between the polyurea base coat and the concrete.  It also provides a perfectly level surface, free of blemishes.  This is why we are able to warranty our coating installations. 

Now, what about the actual coating products?

Paints are inexpensive, but don't last.  Polyurethanes are subject to hot tire pick-up, have a 4 day cure and emit strong odors when curing.  Epoxy coatings sit on the concrete, are not flexible and have a 6 day cure with strong odor.  Polyureas (our product), soak into the concrete for a permanent bond, are flexible, cure in 1 day and emit low odor and low VOC (better for the environment). 

After installation is complete, you can walk on your new polyurea floor within 2 hours and park on it the very next day.  

​What About Colors and Finishes?

Colors and finishes are a matter of personal taste.  That is why we offer our flooring in 16 standard solid colors and 6 popular granite finishes.  Additional solid colors and finishes available. Here are a few things to keep in mind:

Solid color finishes provide a "high gloss" look, but show any irregularities that may be present in your garage concrete floor

Solid color finishes show scuffs and scratches more than granite finishes

Solid color finishes will show dirt more than granite finishes

Granite finishes provide a bit more "texture" to your floor and will hide most surface irregularities in your floor.  They are not slippery when wet

Granite finishes will hide scuffs and scratches

Granite finishes generally hide dirt

Granite finishes are available with chips ranging in size from 1" down to 1/16' in size

Click on charts for larger images.


Our Six Standard Granite Finishes

Our Sixteen Standard Solid Color Finishes


If you are looking for garage floor coatings in the North Valley of Phoenix, then look no further than Monkey Bars of Phoenix. Located in Cave Creek, we are your source for garage shelving, garage organization systems, garage floor coatings and garage cabinets in Phoenix or any other city in the Phoenix North valley area.

We offer our garage products for the following cities across the Phoenix area:  Anthem, Carefree, Cave Creek, El Mirage, Fountain Hills, Glendale, Goodyear, Litchfield Park, New River, Paradise Valley, Peoria, Phoenix (north of I-10), Scottsdale, Sun City, Sun City West & Surprise. 

Call us in the Phoenix North Valley Area Today for a Free Estimate!

www.azgarageconcepts.com

monkeybarsofphoenix@gmail.com

(602) 714-0033




Phoenix Area Garage Floor Coatings
Garage Floor Coatings and Garage Improvement in Phoenix
Web site design by AZ Garage Concepts - Copyright© 2012 - All Rights Reserved

So, how do we install this great product?

We start by diamond grinding the floor, which opens up the pores of the concrete. After fixing any surface cracks or small holes in the concrete, we apply the pigmented base coat by pouring it out, spreading it around with a roller. The base coat penetrates down into the pores of the concrete. A full broadcast of 100% recycled vinyl chip (in your choice of colors) is applied. The floor is then left to cure for a few hours while the chip bonds with the base coat. 

We then lightly scrape the floor to knock off any loose chip, and the remaining loose chip is gathered up. The top coat, which is the same product as the base coat minus the pigment, is then applied in the same manner as the base coat. Because we use the same product for the base coat & the top coat, the 2 coats cross-link, locking the chip in and making the whole flooring system 10 times stronger than epoxy. 

THE GARAGE ORGANIZATION PROFESSIONALS IN PHOENIX